You know another superhero who likes brooding other than Batman? John Constantine. I just started getting in Constantine 'cause of this hot devil below (no pun intended):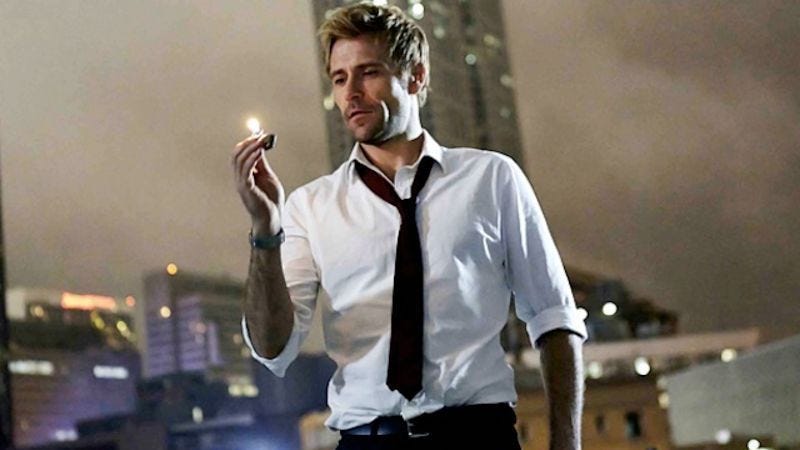 Since then I've been hooked, And I just need to get my hands on the actual comic book series…
Anyway the John Constantine above is the new one played by Matt Ryan. He had a stand-alone series titled, "Constantine" on NBC named after the character and DC Comic "Hellblazer". Unfortunately, that only lasted for one season & so due to the uproar by fans, old and new, Constantine is now joining the cast of "Legends of Tomorrow." So far, it's not that bad. Matt Ryan has also lended his voice to two animated flicks, one called "Constantine: City of Demons" and the animated movie, as shown below, "Justice League Dark".
In the scene below, Constantine and Zatanna, enter a man's mind to figure out the mysterious cases haunting humanity in the outside world:
When Constantine said that I was like "He understands me!" That's what I do when I'm anxious. I try to think of every WORST possible problem to come up with EVERY possible solution. I know…it's kind backward thinking, but then again anxiety disorders have a knack of not making ANY sense. That's about the only understandable thing about it. It takes reasonable scenario and magnifies it ten times more. Do I hate anxiety…
So catch Matt Ryan as Constantine on "Legends of Tomorrow" on its series premiere on Oct 22nd on the CW (Check your local listings):
Then if you have DC Universe (which I wish I could afford), you can check out season 1 of Constantine and the animation flick Constantine: City of Demons: