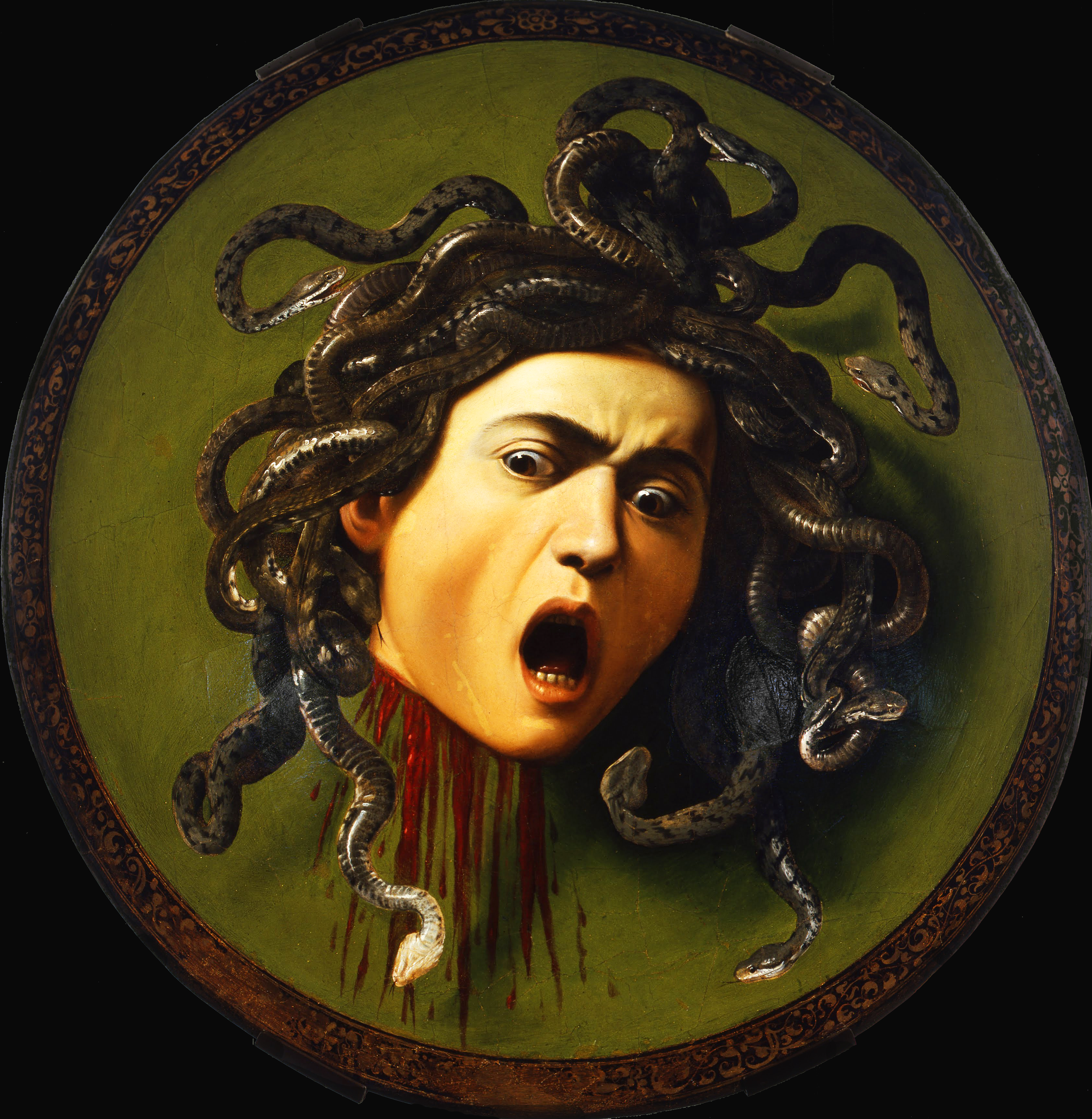 The Sad Untold Story of Medusa
I'm sure you've heard about the story of Medusa. You know… the woman who was cursed because she was beautiful and then ended up having snakes heads for hair and with just one look, she'd turn her victims into stone. The only way she could be stopped, by cutting off her head. But have you heard of the real…story about WHY she was really cursed?
The whole thing started when Medusa, a mortal, was raped by Posideon because she was beautiful. The thing it was happening in Athena's place of worship and Athena cursed Medusa into a monster. Anyone see the problem with this? This whole time, even through pop culture, she was this evil monster, who in every story had her head cut off and her killer was named a hero. However, she was victim of rape and victim blaming. And here I thought that Athena was supposed to be the goddess of wisdom.
In an episode of Charmed, titled "Switches and Stones", Maggie, Mel, and Macy find a case of men who are turned into stone. This all happening during the time of Maggie's Kappa Rush time and…during the time Maggie and Mel switched bodies by accident due to a magic spell. The sister's figure it's a magical creature, Medusa, who is turning people, mostly guys, to stone. But they are wondering, why…
This slideshow requires JavaScript.
Huh how interesting…a demon helping victims of slut shaming, makes you wonder who is worse humans or monsters? I mean…it's one thing being the person who starts slut shaming, but another to be a bystander. The bystander effect according to Psychology Today, occurs when the presence of others discourages an individual from intervening in an emergency situation.
Bystander Effect
This slideshow requires JavaScript.
So what is a bystander? According to Google, a bystander is someone (or a group of people) who is present at an event or incident, but does not take part. Other words for bystander include onlooker. But then…there is an interesting term called "Bystander Effect." So what is the "Bystander Effect?" The bystander effect occurs when the presence of others discourages an individual from intervening in an emergency situation (Psychology Today, n.d). In the case of the scene, the students were looking at the pics on their phone. So the question is then why what would cause students who clearly saw disturbing pictures of girls to do practically nothing. A chart from another Psychology Today article explains this (Burn, n.d.):
Again in the case of the students in the show, I wanna say they were "engaged" in numbers 2,3, and 5. The kids seemed fascinated more with the pictures and the shock value, rather than to call out (especially in front of their peers) a wrongdoing. In emergency situations where there four or more bystanders, only 31% will help (Gaille, 2017). In this case, that's Mel, Maggie, and Macy out of all the people who are at the Kappa Rush party. Disappointing.
Non-Consensual Photo Sharin

g

This slideshow requires JavaScript.

So sad. She had summon a demon to stand up for her, because other people wouldn't. I can't imagine the distress anyone would go through when going something like THAT, ESPECIALLY after telling the abuser NOT to send the picture. The act that the girl's abuser is called, "Non-Consensual Photo Sharing". What constitutes as "Non-Consensual Photo Sharing" is (Breakthrough, n.d.):
Taking intimate photos or video without consent
Sharing intimate photos or videos taken with consent-and the reasonable expectation of privacy-and sharing them without consent
Sharing photos or videos with the intention of humiliating, degrading, or harassing someone
Using coercive behavior to obtain intimate photos or videos
Taking and sharing photos or videos of sexual assault
Unsolicited photo and video sharing as harassment
Consent
This slideshow requires JavaScript.
That's the unfortunate thing slut shaming does…it causes low self-esteem, depression, anxiety and relationship disturbances. Whatever form sexual assault/harassment comes in, "No" ALWAYS means "No". To not respect, is well…sexual assault/harassment. In the case of the girl. So what is consent? It must be:
Clear
Coherent
Willing
Ongoing
So, the pictures of the girl were not given by her consent.
Victim Shaming
This slideshow requires JavaScript.
When we as a people engage in victim blaming, we are basically ostracizing them…saying their story doesn't matter. When we say things like ("How To," n.d.):
She asked for it
It wasn't really rape
He didn't mean to
She wanted it
She lied
Rape is a trivial event
Rape is a deviant event
Victims are already going through so much in themselves: shame, low self-esteem, hopelessness/helplessness, denial or minimizing what had happened to them and fear of the consequences if they do report what happened to them, especially if their assaulter is rich and powerful (Engel, 2017).
This slideshow requires JavaScript.
How to Help Victims of Sexual Assault
Definitely, what can be a help is by carefully wording what we say ("Tips for, n.d):
"I believe you"./ "It took you a lot of courage to me about this."
"It's not your fault."/ "You didn't do anything to deserve this."
"You are not alone." /"I care about you and I am here to listen or help in anyway I can."
"I'm sorry this happened"/ "This shouldn't have happened to you."
This slideshow requires JavaScript.
Other Reasons Why People Don't Step In
There are some other reasons why people remain bystanders:
"[The] situations present that create more danger to a perceived situation, such as having a perpetrator present.

"
"[S]omeone will only choose to act if the potential reward is greater than the known risk.

"
"The costs of an intervention being physical in nature is one of the greatest attenuations of the bystander effect."
"The more we live in cities and are part of crowds, the problems of ignoring the plight of individuals, of communities and groups will remain with us, unless we address it proactively."
I liked how Maggie…well, Mel (who was in Maggie's body), talked about what happened to one of the rushees who was assaulted even though she was afraid (for Maggie's sake at least) she might lose her place as a Kappa Rushee. Luckily that didn't happened
This slideshow requires JavaScript.
What Else Can Be Done To Help Sexual Assault Victims
There are plenty of ways to help victims of sexual assault with having to do anything uber heroic.
RAINN suggests:
Avoiding Judgement
Check in periodically with them
Knowing your resources- This includes knowing the RAINN hotline: (800) 273-HOPE (4673), knowing the National Suicide Provider Lifeline: (800) 273-TALK (8255), but most importantly…remind them to do good self-care
If you want to intervene there are some things that can be used to protect and help you (Gaille, 2017):
"Many communities have enacted Good Samaritan laws that require people to help when they see an emergency situation or a legal penalty, including jail time in some jurisdictions, may result."
"Training programs that give people certain skills to better recognize an emergency situation can help spur action when they see it happen for real outside of the classroom."
"Rewards and other protections have been instituted in different industries and environments to protect whistleblowers and heighten the need for ongoing activism."
If you or someone you know is undergoing any form of nonconsensual photo sharing contact the Cyber Civil Rights Initiative Hotline number below:
You can also visit the CCRI website for more details:
Reference
Breakthrough. (n.d.) Understanding Non-Consensual Photo Sharing. Retrieved from: https://us.breakthrough.tv/resources/understanding-non-consensual-photo-sharing/
Burn, Shawn Megan. (n.d.) "A Situational Model of Sexual Assault Prevention Through Bystander Intervention." Retrieved from: https://www.psychologytoday.com/files/attachments/124123/situational-model-sexual-assault-prevention-through-bystande.pdf
Engle, Beverly. (2017). Why Don't Victims of Sexual Harasssment Come Foward Sooner? Retrieved from: https://www.psychologytoday.com/us/blog/the-compassion-chronicles/201711/why-dont-victims-sexual-harassment-come-forward-sooner
Gaille, Brandon. (2017)17 Exceptional Bystander Effect Statistics. Retrieved from: https://brandongaille.com/16-exceptional-bystander-effect-statistics/
Harvard Law School Halt. (n.d.) How To Avoid Victim Blaming. Retrieved from: https://orgs.law.harvard.edu/halt/how-to-avoid-victim-blaming/
Psychology Today."Bystander Effect" (n.d.). Retrieved from, https://www.psychologytoday.com/us/basics/bystander-effect
RAINN. "Tips for Talking with Survivors of Sexual Assault." (n.d.). Retrieved from: https://www.rainn.org/articles/tips-talking-survivors-sexual-assault
More Reading
"Bystander Effect' and Sexual Assault: What The Research Says
"It's Victimization": Push Grows To Charge Onlookers Who Tape Sexual Assaults
The Effects of Slut Shaming on Teen Girls
The Time I Totally Failed to Stand Up to a Street Harasser
The Timeless Myth of Medusa, a Rape Victim Turned Into a Monster